Ediitor's Note: This is a special contributed article from Ryan Signorino ('15), who served as the junior editor of The Rambler in 2013-14 and the senior editor-in-chief in 2014-15.
One semester and 12 credits shy of receiving my journalism degree at St. Bonaventure University, I've done plenty of reminiscing about my college years. All I've learned, the people I've met and the opportunities I've been afforded have made the last four years the best of my life.
My college decision process had three major criteria: an excellent journalism program, small-school atmosphere and a strong athletic program. All three of these components can be attributed to my years at Cathedral Prep, and especially my two years writing for The Rambler.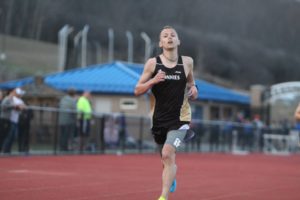 Not being involved in athletics throughout high school, I struggled to find a place at Prep my first two years. I was also nervous about figuring out what happens next and deciding on a college major. The Rambler dispelled both of those worries, as I worked as junior editor and senior editor-in-chief. Looking back at some of the articles I wrote, I cringe at my grammar and word choice, but I could say the same about things I wrote freshman year of college as well.
I loved writing and coming up with story ideas, so as my parents pestered me about what field I wanted to enter, journalism rose to the forefront. Four years and no major changes later, I'd say I made the right choice.
I've done plenty of awesome things at Bona's, such as running cross country at the Division I level and working as an intern for the First-Year Experience and Orientation department the past two summers. However, my work on the campus newspaper, The Bona Venture, has been the most rewarding.
I visited The BV room on my open house tour and left thinking, "Those people are weird." Six semesters later, I'm one of the weirdos. I've learned so much about interviewing, writing and putting together a newspaper page. Wednesday nights are when we build the paper, and it was a rarity to leave before 1 or 2 a.m. Despite all the lost sleep, the friends I've made through The BV made it so worth it.


By far the greatest experience stemming from my work with The Bona Venture was the opportunity to fly to Dallas, Texas, for the St. Bonaventure vs. Florida NCAA Tournament First Round game in March. I was able to sit on press row and cover the game as a student journalist. Despite losing, being seated behind the announcers and being on TV, being in the press room with famous sportswriters and getting to listen to the postgame press conference are all things I never imagined doing as a college student.
Obviously I credit my hard work and St. Bonaventure for the ability to do these things; but I think back to where I found my love for writing, my love for journalism, and I think back to sitting in Mr. Hubert's classroom on the fourth floor. In a few months when I graduate with a journalism degree, I owe a lot to The Rambler for bringing out my passion for writing and setting me on the path to success in college.