Prep-Villa holiday concert review
On Tuesday, Dec. 18, Cathedral Prep and Villa Maria Academy held their annual MVP Holiday Concert. The performance held within the H. David Bowes Auditorium was a showcase of all of the amazing talents of the students at Prep and Villa in chorus, show choir, percussion ensemble, jazz band, and the Prep-Villa dance ensemble. This concert lasted just about two hours, beginning shortly after 7 p.m. and concluding around 9.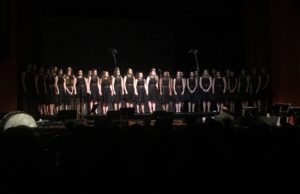 The night was started off by three very impressive a capella songs sung by the Prep chorus. They sang "Psallite," "Throw the Yule Log On, Uncle John," and "Jesus, What a Friend for Sinners." While only a very small group in numbers, with only eight students in the chorus, the group presented themselves very strongly and impressed the crowd. Following the Prep chorus was Villa's show choir, which is a little larger than the Prep chorus with just over 40 students. Show choir shocked everyone in the crowd with their performance, including classic Christmas songs, such as "Bethlehem Skies" and "Christmas Shoes" along with their closing song that had a modern twist, combining two classic carols, "Holy Night, Silent Night." To close out the singing portion of the night, both the Prep and Villa choirs took the stage and combined to sing "Let There Be Peace on Earth," led by the soloists from each school, Joelle Williams and John-Michael Yurisic.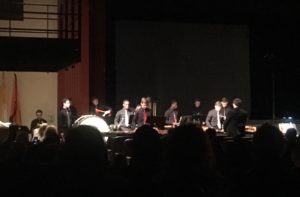 The next portion of the night featured performances by Cathedral Prep's percussion ensemble and jazz band. Each of these two groups was composed of about 15 students and made clear of their hard work throughout the semester. The Percussion ensemble started off with a slow song, "Christmas Time is Here" and then made sure that the crowd was awake with an outstanding performance of their second piece, "Christmas Eve/Sarajevo 12/24." These two groups learn how to play and grow their skills in their respective music classes at Prep, and were able to share their talents with the public.
When interviewed about the percussion ensemble and the holiday concert, senior John Vergotz said, "The concert was a lot of fun, as we were able to show what we have learned throughout the semester to our families and friends and shock them with our music."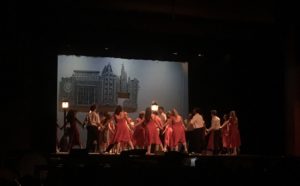 The next part of the show was put on by the Prep-Villa dance ensemble. They first performed a short piece from The Nutcracker called "Arabian," which showcased nine students who participated in a show put on by the Lake Erie Ballet this past weekend. The next piece danced was about a 30-minute long dance created just this year by Mrs. Eden Mischler Ihrig, the dance teacher at Prep and Villa. She hopes that this dance, "Christmas in Perry Square," can become a yearly tradition and be part of the holiday concert for years to come. This newly created masterpiece included many styles of dance, including ballet, tap, waltz, and many others.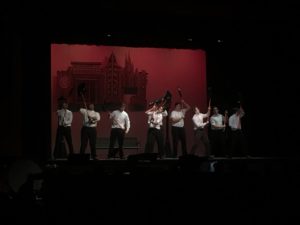 Cathedral Prep senior dancer Ryan Sweny commented that "Christmas in Perry Square" was "An overall great experience that I will never forget as I thoroughly enjoyed each and every practice and performance." He is "sad to see it come to an end."
The holiday concert is becoming a very well-known Christmas tradition within the Prep and Villa community thanks the growing MVP program. This showcase would not have been possible without the many dedicated hours from teachers and volunteers including Mr. Steadman, Mr. Olesso, Mrs. Mischler Ihrig, and Gretchen Petrarca.