8th edition of Prep's "Shark Tank" a success
On Tuesday, April 9, Cathedral Prep's Entrepreneurship class hosted their 8th "Shark Tank" event and second of the school year. The Prep "Shark Tank" is run by teacher Mr. Akram Bhatti. The event takes place each semester in the Cathedral Prep library. The investors who come to the "Shark Tank" event are former Cathedral Prep alumni who are businessmen or in the business field. Current students pitch their ideas with live presentations to the investors, and the event was also live streamed by Prep-Villa on Facebook. This gives those who cannot attend a chance to watch it live from home or work. The video is also archived for people to view later. The live streams have averaged around 2,000 views and are continuing to grow in popularity.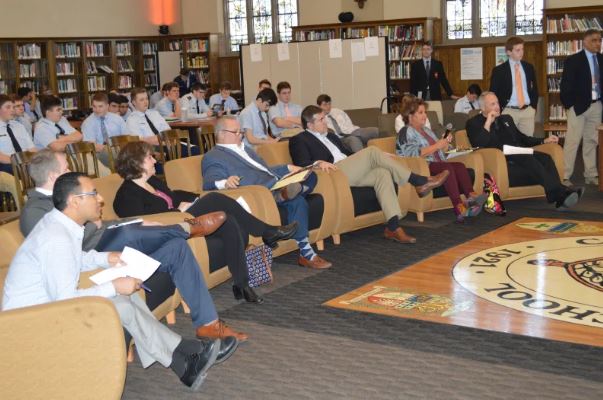 Students begin preparation for the "Shark Tank" about 3-5 weeks before there actual presentation day. Students have to prepare an idea that is not invented today, create a presentation to talk and share about their product, an iMovie that shows their product in use, the breakdown of the design, and finally a prototype to show to investors.
Prep seniors Caden Elwell and Jordan Covatto created a product called Optical Visor to present at their first Prep "Shark Tank" event. "Doing the shark tank has allowed us to do things we have never thought of doing before. It allowed us to open our minds to new ideas that are not invented yet and allowed us to get experience in presenting in front of top business people."
After the conclusion of the event, Mr Bhatti said the event went well. "Students presented well, and there was 4 or 5 products that could go to market." In the end, the 8th edition of Prep's "Shark Tank" was a success.