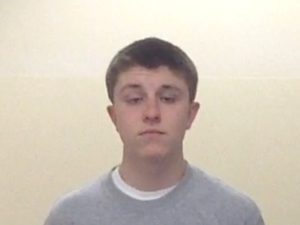 Not long ago I had the pleasure to sit down and talk with Prep senior and one of my best friends Jonathan Fitzmaurice. Jonathan is a very well liked kid among his peers and classmates here at Prep. If you were to ask kids about their thoughts on Jonathan it would be pretty rare to hear any negative words. "Jonathan is a very funny kid. He always knows how to make people laugh and get kids out of a bad mood," said senior Nick Gorny when I asked him his thoughts on Jonathan.
Jonathan is president of the Cathedral Prep Key Club this year. Key Club helps out the community throughout the year and does various good deeds for the less fortunate. He is also a part of the rally crew with myself as well. He plays a big role in the rallies we have been putting on so far and will be for the rallies to come.
Jonathan, better known as "Fitz" to his friends, has been here at Prep since freshman year. Being around Fitz a lot I can tell he has changed a lot since then. He claimed he was a "nerd" freshman year, and said he has "come along way since then." During the interview I then asked Jonathan what he feels has influenced these changes over the past four years. He responded by saying, "I gotta say my friends. They mean a lot to me. I wouldn't be who I am without them."
Fitz also claimed that his favorite thing about Prep is the rallies. Jonathan's favorite class has been his sophomore year history class with Mr. Parsons. I also happened to be in this class, and it was a very fun class. A lot of our friends were in it. We joked around and had fun but still learned a lot.
Jonathan's plan for the future is to study business at Penn State. He also wants to minor is pre-law and become a lawyer. Fitz has been interested in the law since freshman year when he started thinking about his future. He has always loved Penn State and has always wanted to go there.
Fitz is also making a return to the CYO basketball court this year. He believes his Raiders from OLC/St. Jude have a good shot at the championship. He has also made an early prediction that he will be the league MVP.