Prep community donates blood for NHS-sponsored blood drive
The Community Blood Bank of Northwest Pennsylvania visited Cathedral Prep on Wednesday, Jan. 22 for the school's annual National Honors Society sponsored blood drive. More than 50 students and faculty participated in the blood drive.
After signing in outside of the auditorium entrance and filling out the required questionnaire, students were given complimentary Little Debbie snacks and Minute Maid beverages. A finger prick was done to test iron levels, and if levels were high enough, students were seated in one of six lounge chairs and had inserted into their arm a needle, aka the instrument with which blood would be withdrawn from. All in all, one pint of blood was taken from each donor.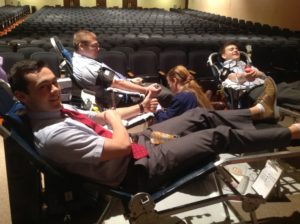 Giving blood is an easy way to save a life or two, or even three. Donations go not only to victims of accidents, but also to cancer patients and prematurely born babies.
Not only did students do a good deed, they also got some time off of school and an excuse to miss practice, which, for some, was impetus enough to donate. Junior DeAngelo Malone told me he donated because it meant he could get "A free day off of lifting and out of class, but it's also a good deed." I appreciated the honesty.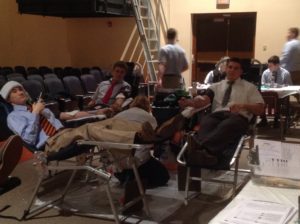 Others alluded only to the fact that this was something good to do. "I've been blessed enough to be healthy, and I feel as if I should give something back," said senior Carl Baumann.  "I also want to know my blood type, too," Baumann later said.
Mrs. Priestas donated "To help somebody," and Shaun Evans told me donating was a "Good way to give back."
In all actuality, there are very few reasons not to donate. Beyond the requirements that one must meet to donate, the process is very simple. Senior Kyle Johnson told me donating is "A lot easier and less painful than I anticipated it to be."
Many resist donating because of a fear of needles, blood, or passing out. According to one of the ladies working the drive, passing out is extremely rare, and is able to be avoided by making sure to eat or drink at least two hours before donating.
All together 64 members from the Cathedral Prep community participated in the blood drive, exceeding the National Honors Society's goal of 60 participants. All of those who helped make the blood drive such a success, regardless of their motives, should be commended for the good deed they did and the help and aid they without a doubt gave to someone in need.