Alumni Profile: Rocco Wellek ('09)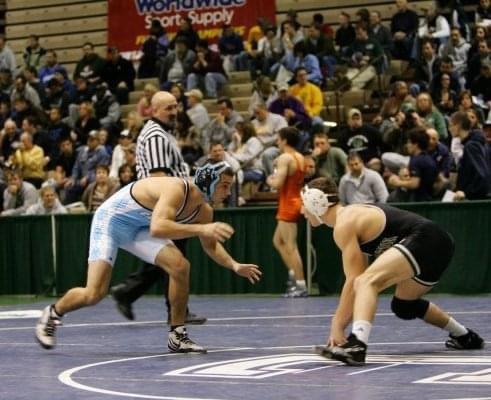 A graduate of the Cathedral Preparatory class of 2009 and previous holder of a Prep record, Rocco Wellek, who currently resides in Erie, looks back fondly on his years at Prep. He always remembers the good memories of him and his friends in class.
Rocco never intended to attend Prep, and it wasn't a tradition in his family, unlike many other families. His father taught at Fairview, and he lived in Fairview, so he had no big reason to go to Prep. However, he says his best friend persuaded him to look at Prep. He wrestled as his sport and after going to the open houses, he felt that it was the best fit for him to excel at both sports and academics. He also wanted to experience the culture of Prep, which was another part of his decision of choosing to attend.
His favorite part about being at Prep was just going to school. He loved talking with his friend and he loved lunchtime. "Rest in peace, [former Prep Chef] Frank Cirillo, even though he's living. He still lives on to make the best Prep lunches ever," Wellek said.
To Wellek, school never felt like school. The social aspect was one of the best parts for him. It was just a place where he and his buddies would hang out. Even today, he still contacts his friends, and one of his employees is a friend he had from Prep. Playing games on the computers, cracking jokes at lunchtime; even though he was learning, it was never dull.
Of course, he couldn't forget to mention the Prep rallies and the football games. While in school, his favorite class was leadership, which was taught by one of his favorite teachers, Mr. Del Rio, whom he had for other classes as well. He said that he always broke them down and kept everyone on their toes, and the class itself was memorable.
"[Mr. Del Rio] made going to class enjoyable because you had to learn," Wellek said. "If you didn't learn, he was gonna call you out."
However, his favorite moment at Prep, aside from competing in wrestling, was when he went to a Prep vs. McDowell football game his freshman year. The game was actually for the District 10 championship, and they had played twice previously, but Prep had lost both times. He doesn't remember how, but the score was so that Prep was only up by one. McDowell had just scored and was going for two to get the lead, but his teammate for wrestling, Jon Wentz, stuffed the kid at the goal line. They ended up winning the game. 
"That was my freshman year, and I thought that was the greatest thing ever."
Sports also played a big part in Rocco's time at Prep, and it was one of the main reasons for attending Prep.  As a member of the wrestling team, he labeled himself as "above average," however, he had a Prep record for most wins in wrestling, which was 159. This was recently broken by Carter Starocci. Wellek coached Starocci as a freshman and sophomore.
"I think he won like 163 [matches] or something, and I love see to him doing so well," Wellek said.
A memorable moment for him was his junior and senior year of wrestling. The team won the District 10 championship and went to states. While Wellek said he did pretty well individually, he felt it was always more fun to play and celebrate with the team. 
Moving past Prep, Wellek went to college at the University of North Carolina at Chapel Hill on a scholarship he won for wrestling, but academics was also a big factor in his reasoning for attending. He majored in communications while there. As for his wrestling career, he called it "average," although he recognized his humbleness and admits its probably worthy of only a little praise. 
"It was a very long time ago, and like 30 pounds ago as well."
As a current Erie resident, he lives in his house in the Frontier area. He is a current manager for the lawn care service Perf-a-Lawn, which operates in Erie and Pittsburgh. He does daily operations like routing and hiring and manages around 35 employees. He currently lives with his fiancée and Bailey, their Yorkshire Terrier. He has future aspirations of moving to North Carolina with weather being a big part of his choice. Also, the time he spent there during college made him fall in love with the city.
"Being from Erie, you know the winters, they never get better."
Overall, he attributes Prep to a lot of his success in his life. It has heavily influenced him and has brought him to where he is today.