Eminem: Has he lost himself or is he back again?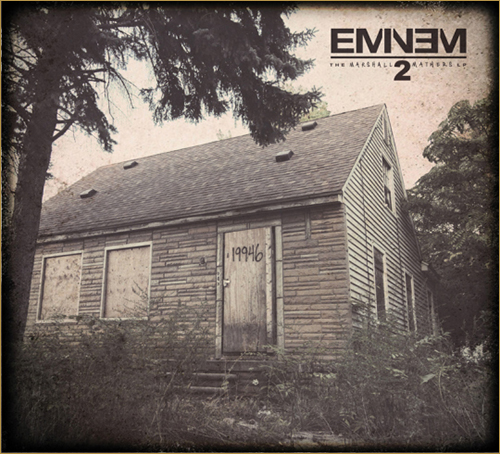 On Nov. 5, Eminem released his latest album Marshall Mathers LP II. This is supposed to be his comeback album. From talking to the students around Prep I have heard more positive reviews than negative, but I enjoyed this album because it wasn't just one main idea of songs of old Eminem when he just raps about ridiculous things that no one understands why it goes through his head. This album was a mixture of all of his past albums and had more varieties of genres (if that's the right word) to listen to. The songs that I felt were the best quality were "The Monster, Rap God, Berzerk, Survival, Headlights, and So Much Better." These songs are just my opinion on the best songs from the album because these are the songs that I can relate to the best. Either the lyrics or the instrumentals attracted me.
"The Monster" is currently the biggest track from his album because it is the second time Eminem and Rihanna have joined up on a track. Their first hit was "Love the Way You Lie," which is still a fan favorite for most listeners. "The Monster" is a more upbeat version of "Love the Way You Lie." This is one of the songs that could fall under his album Recovery. This song isn't just Eminem tearing apart some person, but it is a song that could be a hit this year.
"Rap God" was the third single he released prior to his album. This song is Eminem telling the world that he is a rap god. I enjoyed it because it was him just letting loose and singing about literally the most random things (about being a Zombie head, about Krypton, and about the misbehavior of Bill Clinton). I think that this was Eminem showing everyone he is back.
"Berzerk" was the the first single released from The Marshall Mathers LP 2. This song gets back to his roots. "Berzerk" is also a very catchy song though which makes it a mixture of his latest music. This song brings back the old Eminem that everyone had controversy with, but it also includes the new Eminem which can lead to the dislike or like of the song and album.
"Survival" was Eminem's second pre-album release single. This is also the theme song for the latest game, Call of Duty: Ghosts. The song is a great song because it is all about surviving the hardships he faces as a rapper. It is a song that I can see many people listening to before sporting events because it is inspirational to bring out the hype within, and because Eminem goes off. This is a song that I can see being from Relapse because he is coming out of his me-against-everyone stage to a more singer/rapper.
"Headlights" is a song that is collaborated with Nate Ruess, lead singer of fun.The song talks about his life with his younger step brother Nate, who he now has adopted. The song is a song to his mother about how he is sorry, and that he really loved her but at the time he didn't love his mother. Eminem has written past songs about how he hated his mother. Now that he has sobered up his music has to change in some ways because he is a different man.
"So Much Better" — The past two albums Eminem has come out with have had songs about how he hates this one person, or so it seems it. On this track, the person he is rapping about is actually his music career. "25 to Life" is about his rapping career and how it has destroyed him, but he has to do it because he has nothing else. The song "So Much Better" is the old Eminem that everyone seems to love. The refrain in the song is "I'd be so much better if you died," and that is the controversial Eminem that young people love and old people hate.
Eminem is one of the most decorated rappers and should be considered among the Top-5 greatest rappers ever. As stated in his new song "Evil Twin", "ExI'm top four, that includes Biggie, and Pac, and I got an Evil Twin so who do you think that 3rd and 4th spots are for." Yes, some people don't like him, but everyone has different tastes, and my taste has to be in some of Eminem's music because I have the entire album. Eminem is back, and whether you like it or not he will shock the world with his return.