Cathedral Prep hockey teams brings state championship back to Erie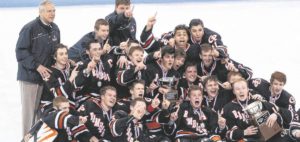 This past Saturday, March 21, the Cathedral Prep hockey team competed in the PIAA AA state championship at the newly renovated Pegula Ice Arena in State College, Pa. With two bus loads of students cheering on the boys, the Ramblers rallied from a 1-0 deficit early in the first period to come out victorious, shutting out the Downington East Cougars in the remaining two periods, winning the contest 3-1. The Ramblers took home the title for just the third time in the school's history with the first coming in 1984 and the second coming in the 1997.
Sophomore Dillon Elliott hammered home an equalizer with the clock hovering around three minutes left in the first period. Even later in the period, Hunter Emerson scored to give the Ramblers the lead. From there, the Ramblers typical high-flying, fast-paced offense and unstoppable defense took over. The freshman goaltender Jacob Kucharski was certainly the man of the match and of the playoffs. The brick wall blocked 71 of 77 shots throughout the playoffs and held the Cougars to just one goal, all while doing it as a freshman. Assistant captain Ben Eliason broke down after the final buzzer went off. "I couldn't believe it. All the hard work and years of dedication have finally paid off. Nothing compares to this feeling," he said.
In the past four years, the Ramblers have made it to the Pens Cup, which is the name of the semifinals, three times, but this year was the first time they won and advanced to states. The championship win capped an unbelievable season when they sat at number one in the state for the majority of the regular season. Seniors Trevor Faulkner, Ben Eliason, Hunter Emerson, Stephen Zeigler, Richard Vicary, and Jack Kelly leave the underclassmen behind with big shoes to fill. This year's seniors led the team with an astounding record of 29-4.
The momentous season came to a close when the team returned back to Erie on Saturday night to a parade of fire trucks and a thunderous, rowdy crowd. The hockey team made Cathedral Prep, and all of Erie, proud for winning the first hockey championship the city has won in years.