It's arguably the best time of the year here at Cathedral Prep with all of the school's fall sports teams kicking off their seasons. As always the school has high expectations for all of the teams and the goals they wish to accomplish this season. Take a look at all of the teams competing during this fall season.
Cross Country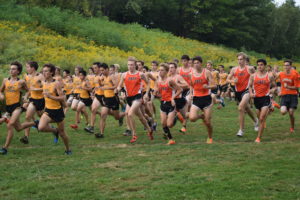 The Ramblers cross country team opened up their season with a dual meet against defending state champion North Allegheny on Sept. 8 at Frontier Park. The Ramblers fell short and suffered their first loss of the season. The following Saturday the team traveled down to Schenley Park in Pittsburgh, Pa., to compete in the annual Red White and Blue Classic. Evan Fritzke paced the Ramblers, finishing 27th overall out of roughly 300 runners. He was followed by teammate Bailey Klein who finished 30th overall. As a team the Ramblers placed 6th out of a field of 30 teams. Mark your calendars for Tuesday, Sept. 22, as Prep duals against their rival McDowell at Frontier Park beginning at 4 p.m.
Key Losses: Jack Lindenberger, Norman Stark, Michael Clark, and Matthew Neville
Key Returners: Evan Fritzke, Jack Dey, Bailey Klein, Noah Nicolia, Kevin Haight, Kyle Wagner, Roman Zegarelli, and Jake Schlosser
Football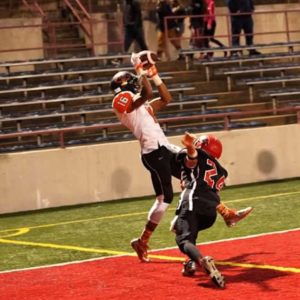 Football season is back which means it's the craziest time of the year around the halls of Cathedral Prep. The football team recently went down to Kissimmee, Florida to open the season taking on the Wakulla War Eagles. The War Eagles were led by LSU-commit Feleipe Franks as well as Keith Gavin, one of the top wide receivers in the class of 2016. The Ramblers were ultimately defeated by a score of 31-14. Malano Jones rushed for a pair of touchdowns and gained 80 yards on the ground in the loss. When senior captain Sullivan Johnson was asked about how the overall experience of playing in Florida will help the team he responded, "Wakulla was a very talented team with tremendous athletes. We had to play at a very high intensity just to compete and that took us to another level. If we play with the passion throughout the season that we had in Florida we will have a very special season."
The Ramblers most recently squared off against region opponent Strong Vincent, on Friday, Sept. 11 at Veterans Stadium. It was all Cathedral Prep in this one. TaNauz Gregory set the tone by recording an interception on Strong Vincent 's first play from scrimmage. From there on out the Ramblers were rolling, and they defeated Vincent by a score of 63-0. The Ramblers next outing is Sept. 18, with a 7 p.m. kickoff at Gus Anderson Field against McDowell. The opposition goes into the game with a winless record of 0-2. They were defeated by Lake Catholic 63-7 in Week 1 and fell to Canton McKinley 27-10 the following week.
Key Losses: Charlie Fessler, DeAngelo Malone, James Trucilla, Jake Galla, Tim Zieziula, Sean Harris, Jermaine Hunter, Troy Woodard, Sam Sweny, Byrce Boyd, Billy Norfolk, Alex Kissel, Mike Spizarny, Dominic Kramer, and Chris Callari
Key Returners: TaNauz Gregory (Sr), Matthew Bauer (So), Malano Jones (Sr), Jose Casiano (Sr), Timmy Beveridge (Sr), Sullivan Johnson (Sr), Dajon Heidelberg (Sr), Mike Buzas (Sr), Adam Figurski (Sr), Mitchell Gresh (Sr), Shane Scott (Sr), Nick Bizzarro (Sr), Koron Williams (Sr), Alex Comi (Sr), Jeremy Hill (Sr), Jerry Roberts (Jr)
Water Polo
The Cathedral Prep's water polo team opened up their season with a splash, by "drowning" a talented North Allegheny team 15-8. Over the weekend the Ramblers placed first in the very prestigious Ohio Cup, avenging their second place finish from last season. The hype has already began for Wednesday, Sept. 23, as the squad takes on rival McDowell at the Intermediate  (McDowell) starting at 7:15 p.m. The senior class has yet to lose to McDowell in the pool and look for another dominating victory over the Trojans. Following McDowell, the Ramblers will be playing in the highly regarded "Beast of The East Tournament" held in Philadelphia, Pa., from Sept. 25-26. The expectation for this year's team is as high as it has been in recent years and there does not appear to be any signs of a let down.
Key Losses: Daniel Bauman, Davis Nies, Eli Chase, and David Kuhar
Key Returners: Dan Anthony (Sr), Tom Squelia (Sr), Tony Squelia (Jr), Rex Riley (Sr), David Rahner (Sr), and Calvin Behm (So)
Soccer
The Cathedral Prep soccer program is rapidly growing and strengthening year by year. There is much anticipation for all that this year's team will accomplish. The Ramblers are returning a lot of experience from a very successful team that won the District 10 championship just a season ago. The biggest hole that needs replaced can be found at goalkeeper where the Ramblers lost legendary goalie Oliver Wiesner.
Senior Michael Stark is called upon to guard the net and so far all signs point towards another successful season of strong goalkeeper play. They have almost the entire defensive unit back with Nick Paglia, Gage Bamberger, and Derek Jones returning along with senior captain Antonio Simora. The three-headed monster of Zach Hein, Phil Cammarata, and Tommy Russo look to dominate the center of the field while transfer Matthew Zupan looks to score the goals along with Brady Sittinger.
The Ramblers opened up play on Sept. 9 at Dollinger Field against General McLane. The Ramblers were victorious as they defeated the Lancers by a score of 10-0. The Ramblers then defeated Youngstown Ursuline 8-2. Junior Brady Sittinger has started out the season on a tear scoring 7 goals in just two games. Whoever wants to witness the Ramblers in action can take a trip to Dollinger Field on Sept. 23 at 7:30 p.m. when they will face McDowell.
Key Losses: Oliver Wiesner, Sean Reed, Steven Brown, Dino Krdzalic, Sammy Tojaga, and Nick Baran.
Key Returners: Antonio Simora (Sr), Nick Paglia (Sr), Gage Bamberger (Sr), Sammy Tojaga (So), Zach Hein (So), Brady Sittinger (Jr), Thomas Russo (So), Ryan Bogniak (Sr), Phil Cammarata (Jr), Derek Jones (Jr), and Michael Chrzanowski (Sr)
Golf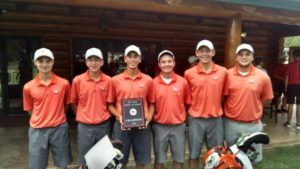 Golf starts their season relatively early to ensure the state playoffs will not be affected by snow or any other uncontrollable weather conditions. This year's starting lineup consists of senior Ben Ladaika, senior Jordan Henry, junior Ryan Misko, sophomore Robbie Harris, sophomore Alex Pol, and last but certainly not least, freshman Patrick Kelly. The Cathedral Prep golf team started off their season in a dominant fashion by defeating McDowell by a grand total of 42 strokes.
The Ramblers have competed and placed highly in some prestigious tournaments thus far such as the Rough Rider Invitational in Kent, Ohio (1st Place), the Corry Invitational (1st Place) and the University School Tournament in Kent, Ohio (2nd Place). A huge congratulations goes out to senior Ben Ladaika who buried his first career hole-in-one this season. "I was more in shock than anything," Ladaika said. "I knew it went in and saw it go in, but it still hasn't sunk in my head that I made it." The Ramblers currently sit at 4-0 in region play and continue to show consistency on the course. The hopes are high for the remainder of the season and we wish the golf team the best of luck as they enter their final stretch of the regular season.
Key Losses: Ryan Podufal, Jack Kloecker, Jack Bloomstine, Jack Kelly, and Dana Stewart
Key Returns: Ben Ladaika (Sr), Jordan Henry (Sr), Ryan Misko (Jr), Robbie Harris (So), and Alex Pol (So)
If you're looking to support any of Prep's teams this fall season, you can view the schedules of all the Rambler teams online.