Nick's Netflix Pick of the Week: It's Always Sunny in Philadelphia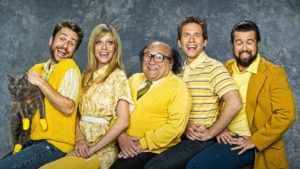 This week's Netflix pick is a sitcom that has grown in popularity in the last couple of years, It's Always Sunny in
Philadelphia. This is a comical show that follows a group of friends (known as "The Gang") in their epic, random, and sometimes disturbing adventures.
The main characters in the show include siblings Dennis (Glenn Howerton) and Dee Reynolds (Kaitlin Olson), friends Charlie Day (Charlie Kelly) and Mac (Rob McElhenney), as well as Frank Reynolds (Danny DeVito) as Dennis and Dee's father. Together, the five of them are all part owners of Paddy's Pub, which they claim is "The Best Bar in Philly."
Dennis is the ego of the group. He has too much pride and thinks he is smooth with the ladies by using his D.E.N.N.I.S. system. Charlie is the janitor at the bar. He was once a co-owner but traded his stock for half a sandwich. In his alone time he likes to run naked in the sewers looking for coins and rings. Charlie is also illiterate and eats excessive amounts of cheese when he is nervous. Mac is the muscle of the show. He often wears tank tops to show off his arms. He likes to show off his hand-to-hand combat skills. Dee is the subject of almost every joke that the gang cracks. The others are constantly making fun of her lack of talent and often call her "Bird" as an insult. Frank is the businessman of the gang. Frank shares an apartment with Charlie, as well as a pull out couch that they both use as a bed.
This show has been on the air since 2005 and is still running. Season 11 is scheduled to debut in January. In the meantime, you can catch up on more than 100 of the earlier episodes on Netflix. Some of the funnier episodes are "The Gang Solves the Gas Crisis", "The Gang Solves the North Korea Situation", and "The Gang Buys a Boat." But in my opinion the best episode of the series is "The Nightman Cometh." This episode is about a plotless play that Charlie writes, and each member of the gang plays a part in the play.
It's Always Sunny in Philadelphia is very comical and can provide a great laugh for just about anyone.