Movie Review: Liar Liar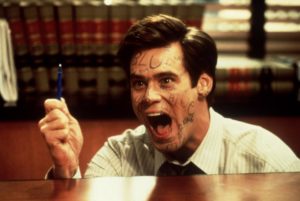 In the 1990s a star was being made. Before funnymen like Jack Black, Will Ferrell and Mark Wahlberg there was Jim Carrey. Carrey is a Canadian born actor who started his career as a stand up comedian. Eventually he landed a lead role in a sketch comedy show called In Living Color. This was the start of an amazing and enduring comedic career. Carrey went on to star in 90s comedies such as Ace Ventura: Pet Detective, Dumb and Dumber, The Mask, Ace Ventura: When Nature Calls, The Cable Guy, and The Truman Show.
But there is one movie that stands above these in my opinion, one that is in the upper echelon of comedies that will stand the test of time. That movie is Liar Liar. In terms of pure comedic value Liar Liar belongs in the category with hysterical movies such as Talladega Nights, Blades of Glory, Tropic Thunder, School for Scoundrels, 8 Crazy Nights, Step Brothers, Ted, The Other Guys, and Pineapple Express, just to put this movie's greatness into today's perspective.
In Liar Liar (1997), Carrey portrays lawyer Fletcher Reede. In Fletcher's pursuit to make partner at his firm he accepts the high profile case of Samantha Cole, a woman who has committed adultery. Due to her pre-nuptial agreement she is entitled to nothing if proven guilty. Fletcher is the only attorney willing to take the case because he believes he can win using his ability to lie, his ability to get his client and witnesses to commit perjury, and his ability to fabricate believable alternative explanations and stories that put doubt into the judge's mind. Fletcher gets so wrapped up in the case that he misses his son Max's fifth birthday party. At 8:15 p.m. Max wishes that for one day his dad cannot tell a lie.
This fantastical plot leads to a hilarious journey of Fletcher Reede struggling to cope with his newfound inability to lie, mislead, ask questions to which he knows the answers will be lies, or even deceive by withholding a true answer. This leads to many great sound bits, one of which takes place when Fletcher begins to brutally assault himself in a court bathroom in order to have his court case come to a continuance.
Jim Carrey was nominated for a Golden Globe Award for Best Performance by an Actor in a Motion Picture – Comedy/Musical, for his energetic and clownish portrayal of Fletcher Reede. This movie will have you laughing from beginning to end and will have you rooting for Fletcher to not only win his case, but for him also to realize that honesty is the only way to win back the adoration of his son.
If you love a good laugh and are hard pressed for a movie, this classic fits the bill. With a star, class-clowny performance from Carrey you will be thoroughly entertained and will want to watch it again and again. Many people say that they've seen a movie "a thousand time." Well, I can tell you that I have seen Liar Liar at least 30 times by now, and I still laugh at the same parts. This movie is worth it, but if you watch it beware. "The Claw" will pull you right back into this awesome comedy over and over and over again.