TV Review: Modern Family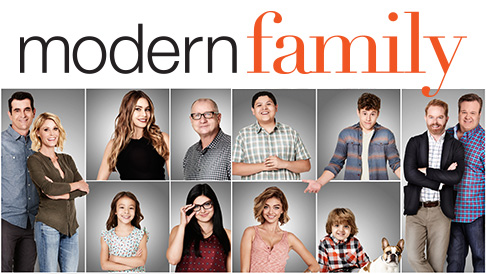 As summer came to an end and the school year began, many television shows came back. Among these shows was one of America's favorites, ABC's Modern Family. Modern Family is a mockumentary of the lives of the modern U.S family. It is a comedy but also teaches many life lessons throughout the seasons. The show premiered on Sept. 29, 2009.
The characters in this show include the grandfather Jay Pritchett (Ed O'Neill) and his foreign wife Gloria (Sofia Vergara). Jay and Gloria have a young son Joe (Pierce Wallace). Gloria also has a son from a previous marriage, Manny (Rico Rodriguez). Jay also has two grownup children from a previous marriage, Mitchell (Jesse Tyler Ferguson) and Claire (Julie Bowen). Mitchell, who is his gay, is married to Cam (Eric Stonestreet), and they have an adopted daughter, Lily (Aubrey Anderson-Emmons). Cam is very animated and brings a lot of spice to the show. He lightens the mood a lot, even if he is not trying too.
Claire, is Jay's hardworking daughter. She is a very independent woman who has to deal with the shenanigans of her husband Phil Dunphy (Ty Burrell). Phil is quite the character.
Prep senior Brian Buseck, who called the show "one of the best sitcoms on television right now," named Phil as his favorite character. Phil is many people's favorite character. He does magic and has a sensitive, feminine side. Phil and Claire have three children. Their oldest is Haley (Sarah Hyland), a very stereotypical "popular girl" as many people would say. She loves boys and is always getting into trouble. Then there is Alex (Ariel Winter), the studious straight-A daughter who is also the middle child. Even though she will most likely be the most successful of the three, she bores people the most. Lastly there is the youngest child, troublemaker Luke (Nolan Gould). He is always finding ways to get into trouble and make people laugh. He is, in a way, Phil's sidekick.
The first episode of the new season of 2016 is very funny. The episode takes place in New York City. They start off the show by going their separate ways from their parents. Phil and Claire go off on their own and so do the kids. Phil and Claire decide to take a vacation and rent a hotel, but they tell the kids they were going home. Then Luke decides to spend his college money on staying in New York for a little bit longer. The show goes on and they both find out that they stayed in New York. Once again there is a huge family lesson with humor all throughout the show.
The first episode set the tone for another exciting new season. The series has already had an amazing past and makes people laugh every Wednesday.