Cathedral Prep hockey team ready for playoffs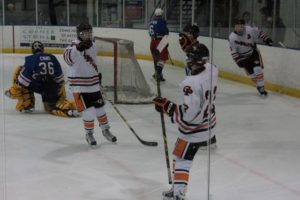 The Cathedral Prep hockey team has had a stellar season thus far. They finished the regular season 17-2 in league play and clinched the top spot of the PIHL playoffs. They look to carry this success into the playoffs with them, as they make the push to states.
After dropping two games early in the season, many people began to have doubts about the squad's abilities. Senior captain Jack Kelly commented, "We were never too worried about it. Those were two hiccups in an otherwise strong regular season. Once we got our bearings, we started rolling, and we hope to keep that momentum heading into the playoffs." The Ramblers proceeded to go on an 11-game win streak, beating the top team in the other division, Shaler, 8-1. During that streak the Ramblers posted an unreal 80 goals in that span, while allowing just 18.
A huge part of the Ramblers success this year is based around the first line consisting of Trevor Faulkner, Ben Eliason, and Richard Vicary. This trio played a vital role in the the Pens Cup run the team made last year. Together they have combined for 49 goals over the regular season to lead the high powered Prep offense. Even with the high powered offense averaging about 7 goals a game, the goaltending for Prep has been a huge key to their success. All-star goaltender Trent Faulkner has accumulated 10 wins over the course of the year, and freshman goalie Jacob Kucharski has had an outstanding season as well, allowing a mere 7 goals in 6 games.
The Ramblers hope to have a better result thanthe disappointing loss they suffered last season in the Pens Cup. Everything is in place for the Ramblers this year. If they keep their heads they should have no problem bringing home the title.