Nick's Netflix Pick of the Week: The Walking Dead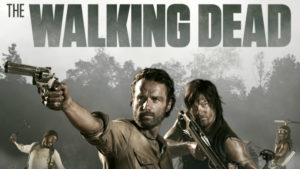 With the season premiere of The Walking Dead airing this past Sunday, it is only fair for this week's Netflix Pick of The Week to be The Walking Dead. The show is about the dreaded zombie apocalypse and living with zombies roaming the earth. This show has had fans hooked since the first episode aired in 2010.
The Walking Dead follows a group of survivors as they try to survive in the midst of the zombie apocalypse. The shows starts in Atlanta, Ga., when the outbreak begins. Rick Grimes, a cop in Atlanta, finds many people sick and looking dead but still alive. He eventually gets injured and loses his family. He finds a new group of survivors and stays with them until he finds his original group. With a few missing people and a couple of deaths the group struggles to stay together and survive.
Throughout the series the group finds a prison they can use for shelter after their original shelter became filled with zombies. They clear prison cells and begin to live there. While out looking for supplies the group runs into other survivors. They eventually battle the opposing group of survivors over some disagreements. After the battle is over the prison is ruined and the group is split up. Over the course of a few episodes the members of the group begin to find each other again.
Through the rest of the series the group escapes and defeat some cannibals that they come in contact with. They also become closer together as a group and start to resemble a family. The show just entered its sixth season and has been running for five years. The cast is led by Andrew Lincoln, Norman Reedus, and Steven Yeun.
The creator of the show was Robert Kirkman. The show was based off of a comic book. With Halloween less than two weeks away, I recommend there is no better time than now to catch up on a good drama and horror show like The Walking Dead.