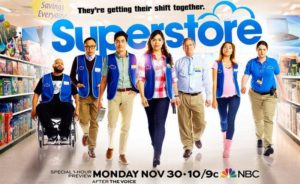 With the new year approaching, new television shows are beginning to air. NBC's newest creation is a workplace comedy entitled Superstore. Created by the same team that produced the hit sitcom The Office, Superstore has fans of The Office and similar shows feeling hopeful. However, based off of the first two episodes, the show has both positive and negative aspects that will decide its fate.
The Good Things: Like any quality TV show, what really makes it work is its characters. The main character is Jonah, a new employee at Superstore. A relatively normal person, his care free attitude immediately annoys his floor manager Amy, an uptight woman who has worked in this store far too long. These foils should provide some comedic relief, and it's pretty obvious that a love story will develop between the two leads.
These everyday workers are surrounded by an ensemble of quirky characters that add to the comedic ambiance. Garrett, an African American man in a wheel chair, has already provided some laughs in the second episode. He spent the entirety of said episode hiding from a magazine photographer who wanted to photograph him for his "diversity." One of his colleagues is Cheyenne, a ditsy young lady who is expecting a child with a man of a very low socio-economic class.
Leading all of these coworkers is Superstore Manager Glenn, a painfully awkward man who lacks any real control over those he leads. With a high nasally voice and no discernible social or career skills, he proves to be a delight.
The Bad Things: While it has a strong backbone, some characters and ideas seem a bit derivative. It's quite obvious that this show is produced by the team behind The Office, for many ideas are stolen from it. First off, while they are quality characters, Jonah and Amy's future love story is all too familiar. Jonah, a young worker with no desire to be there, falls for the prettiest girl working there, Amy. Sound familiar (i.e. Jim & Pam)?
The Office creators saw how hilarious Dwight, immortalized by the great Rainn Wilson, came to be, and attempt to recreate him in this new series. The role seems to have been split up between Mateo, an employee who cares way too much about his work, and Dina, a burly woman who is known to take control of meetings and fire live ammunition in the store.
While Jim & Pam's relationship made us all believe in love and Dwight was one of the best characters of all time, you can't replicate something that has been done before and trying to do so results in failure. Unrelated to The Office is Cheyenne's no-good boyfriend who is trying to provide for the baby by starting his rap career. We've all been annoyed by amateur rappers in real life, and it's no better on TV.
Overall, Superstore has potential, but it's not quite a sure thing. Pilots can be rough, so hopefully the first season can capture fans and inspire a second. Maybe it can one day join the ranks of sitcoms like The Office, Seinfeld, and How I Met Your Mother, but we'll see.