On March 4th and 5th the Cathedral Prep swim team took to the Spire Institute's pool for the District 10 meet. All teams from both the AA and AAA division gathered to participate in the much anticipated meet.
The week before the swimming championships the diving championships were held at McDowell. Junior Ryan Garich took 4th place in the District 10 AAA division with a strong showing in his second year diving. Sophomore Race Nicolia in his first year diving for Prep took 6th in the championships.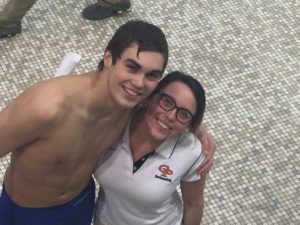 Going into the swimming portion of the championship Prep was 36 points down to McDowell. The quartet of David Rahner, Austin Hancock, Pat Steele, and Quinn Fischer started the weekend off right away with a bang, winning the 200 medley in a demanding fashion. Rex Riley kept the momentum going for Prep winning the 200 freestyle, breaking the meet record by more than 2 seconds. McDowell quickly fired back in the 50 freestyle, taking first and second place. McDowell kept going, winning the 100 butterfly next. Despite McDowell's win in the butterfly, Pat Steele, Tony Squeglia, Matt Kerner, and Robbie Maholic took second, third, fourth, and fifth canceling out McDowell's points for taking first. In the final event of the day McDowell took home another win in the 200 freestyle relay.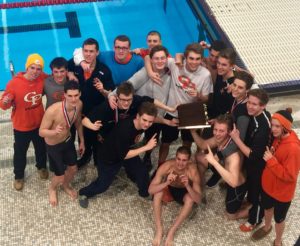 Upon the start of the second day Prep was up a menial 1 point to McDowell. The team had their work for the day cut out for them. In the first event of the day, the 100 freestyle, McDowell took first and second. Next in the 500 freestyle McDowell took home another win, putting Prep down more than they were projecting at this point in this meet. David Rahner, winning the 100 backstroke, turned the tides for Cathedral Prep. Keeping the momentum going, Rex Riley won the 100 breaststroke, for the second time in the meet, in record breaking time. Going into the final event Prep was up enough point that they were able to win the meet by not disqualifying or getting anything less than 3rd in the 400 freestyle relay. The relay of Tom Squeglia, Alec Thomas, Tony Squeglia, and Rex Riley were not taking the easy way out, actually tying McDowell for first place causing the two relay teams to enter a swim off for the one available bid to states. The officials allowed plenty of time of rest for the teams by doing all of the awards and letting them warm down and up after the first race. With all the teams crowded around the pool to witness the two rivals go at it, Cathedral Prep won with a better time than their first swim. Concluding the meet, Prep finalized their 14th straight District 10 title to continue their indisputable regime in the sport.