Jesus Christ Superstar opens Thursday
This Thursday, March 17, marks the opening night of Cathedral Prep and Villa Maria Academy's production of Jesus Christ Superstar. The rock opera with music composed by Andrew Lloyd Weber and lyrics written by Tim Rice opened on Broadway in 1971, but it was originally recorded as a concept album in 1970. Since then it has become a favorite among musical theater and rock fans alike. This is the third time Prep has put on this production, because as director Fr. Mike DeMartinis simply states, "This is the greatest musical of all time."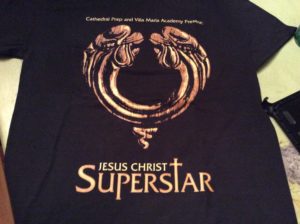 That is a big, yet arguable statement. The show chronicles the days before and through Jesus' arrest and crucifixion with a fantastic rock score. With characters whose stories have been told throughout the ages, this musical proves to be more than just a story, and a story that is told in the best way possible: with rock n' roll.
Jesus Christ will be played by senior Jacob Mays, and he delivers with intense acting and soaring vocals. Playing Jesus has been "a spectacular experience for [him]." He states that he was surprised to get the part, but "after all of the hard work, help from Father Mike, and encouragement from the rest of the cast, I am thoroughly excited to put on this show."
The role of Judas Iscariot is being played by sophomore Alexandra Karlinchak, performing vocal excellence throughout the whole production. On playing the role of Judas, she stated that "It has been a great experience. I love portraying such a complicated character and working with the entire cast to put on yet another great production." Judas is tortured by his betrayal, and Karlinchak dives into these emotions.
The caring friend of Jesus, Mary Magdalene, is played by sophomore Mary Catherine McGovern, who possesses her own set of pipes. On her character, Mary says, "All the songs that she sings really show how much she has been touched by Christ's love and mercy. I hope that I can convey that love in the upcoming performances."
The two plotting priests, Caiaphas and Annas, are portrayed by Prep seniors Seamus Clerkin and Thomas Hoffman. Pontius Pilate is played by junior Brian Buseck and King Herod is played by junior David Roach. Apostles Simon and Peter are played by brother and sister Rachel Lyons ('16) and Elijah Lyons ('19).
Directed by Fr. Mike DeMartinis and choreographed by Carolyn McIntyre, Prep's production of Jesus Christ Superstar brings Christ's passion, death, and resurrection to the stage in an awe-inspiring spectacle of song and dance. With a talented cast and a brilliant score, this show is worth seeing.
Showtimes are Thursday, Friday, and Saturday at 7 p.m., and Sunday at 2 p.m.