Theater production of School of Rock a success
This past weekend, Cathedral Prep and Villa Maria put on yet another very successful theatrical performance. This time it was School of Rock based off of the 2003 film. No other school (or organized theater program of any kind) in the tri-state area has performed this show, as it was just released recently on Broadway. Additionally, it calls for advanced technical effects and for some of the characters to actually play instruments on stage. This show was very unique and much different than any other musical done by Prep and Villa. Described as being one of the best high school performances ever seen by many spectators, the cast and crew definitely knocked this one out of the park.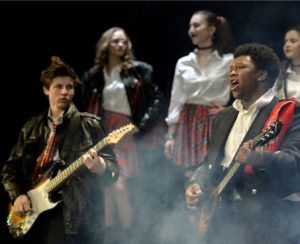 The movie is based on a failing musician (Dewey Finn) who lives with his best friend, Ned, and Ned's overpowering girlfriend, Patty. Patty gives Dewey 30 days to pay the rent before she kicks him out. Despite his dire situation, Dewey maintains his passion for rock music. While left alone at the apartment, Dewey pretends to be Ned (a substitute teacher) on the phone as he receives a call from the prestigious prep school, Horace Green. Dewey accepts the offer of filling in for an injured teacher in hopes of being able to make enough money to pay for the rent. While at Horace Green, Dewey hears the children in music class and is astounded by how well they can play instruments. He creates a band among them and shifts their focus from classical music, grades, and sophistication, to being rock stars and performing in the Battle of the Bands, a large music contest where the winner takes home $20,000. After being busted for fraud, he sneaks the kids out to the concert where both the principal and parents of the children are in shock of what the kids have accomplished. They accept Dewey and appreciate what he brought out in the children.

Sophomore Elijah Lyons (playing Dewey Finn) was the highlight of the weekend, and it wasn't just the audience who loved watching and listening to him. Prep senior Trey Deitrick said, "This was one of the most fun shows, and Elijah really rocked the role he was given as Dewey." The show also starred Alex Welz as Ned and Petra Shearer as Patty, along with band members Race Nicolia, James Jackson, Valeria Camacho, Carolyn Wilcox, Ellie Pietras, Stella Przybylinski, Alexandra Karlinchak, and Nicolina Cuzzola. Kristina Tishchenko played Principal Mullins, the lead female role.
Being the last large show that the seniors will be a part of made this performance even more memorable for many. School of Rock gave a concert, live music, a story, acting, and most importantly, sent a message to the audience. This show will not be forgotten anytime soon due to the fact that many people have never seen this iconic movie performed on a stage before. School of Rock got rewarded with its own section in the newspaper along with an entire page dedicated to the performance on GoErie.com. It is a much more modern show and truly highlights the versatility of Prep-Villa theater and shows the bright future the program possesses.