Spring Sports Preview: Varsity Lacrosse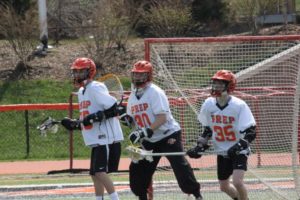 The Cathedral Prep lacrosse team is practicing and preparing to make a deep run this season. Last year, the Ramblers had a decent season, going 12-9 and winning District 10 against archrival McDowell 11-9. The Ramblers then played a stellar outing against State College in the sub regional play-in game, winning by a score of 6-5. Unfortunately, Prep met their match against Mount Lebanon.
The lacrosse team suffered major losses from last year, including graduates from the Class of 2014, Brian Dailey and Ryan Bleggi, who led the team in points  with 70 and 66 points respectively. The Ramblers are also without senior Dan Maloney, who was poised for a breakout season but unfortunately is no longer with the program.


Senior goalie Hunter Emerson, who will play on scholarship next year at Mercyhurst University, looks to repeat his excellent performances this season. Fellow seniors Drew Farell, Kody Witchcoff, and Daniel Bauman, look to step up on a major level to make a deep run in the playoffs.
"This team has the potential to do great things this season if we can come together as a unit," Farrell said.
Also joining the roster this year are seniors Alex Kissel and Dominic Kramer, who have never played the sport before but are looking to become forces on defense. Kissel has already made a splash at practice, breaking a fellow teammate's clavicle on the first day of outdoor practice. Both players say they enjoy the game and wish they would have started playing sooner. The team's first game is on the road against Conneaut Area High School on March 24.