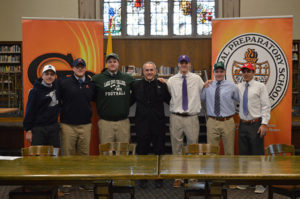 This past week Cathedral Prep took part in National Signing Day. Among the signees were six exceptional athletes from the Cathedral Prep Class of 2015:
James Trucilla is a football commit to the University of Virginia. A force to be reckoned with and tackling extraordinaire, James is a hot commodity on the field and a terrific catch for the Cavalier football program. Also an accomplished student, James will fit well into the UVA culture.
Hunter Emerson is a lacrosse commit to Mercyhurst University. It takes a extraordinary amount of guts to willingly play goalie in lacrosse. It's probably right up there with bull riding in terms of pain. Luckily, Hunter is unquestionably one of the toughest kids in the Class of 2015 as well as an incredibly gifted athlete. There is no doubt that Mr. Emerson will excel at Mercyhurst.
Charlie Fessler is a football commit to Northwestern University. Charlie is the all-time leader in receptions at Cathedral Prep, so it's quite safe to say that he knows a thing or two about catching the ol' pigskin. Charlie will bring his first-class speed and hands to Northwestern and continue to dominate.
Ryan Podufal is a golf commit to Xavier University. Pods is a 4-year varsity golf letterman, being the "go to guy" for the vast majority of that time. The pin-seeking striker will carry this confidence and determination to a Xavier team that will undoubtedly benefit greatly from his play.
Deangelo Malone is a football commit to Youngstown State University. Most accurately described simply as "lightning in the backfield," Deangelo is an expert in juking, jiving, decking, ducking, and dodging defenders. The Penguin football team will benefit greatly from Mr. Malone's outstanding running capabilities.
Corey Fisher is a football commit to Lake Erie College. Corey is a towering human being, fully capable of inflicting his will on most oppositions. Corey will bring size and strength to the Storm football team, and he surely will develop into a fine leader on the team.
Congratulations to all of the signees! We wish you the best of luck in your college athletic careers.