Prep wins 12th straight District 10 title in the pool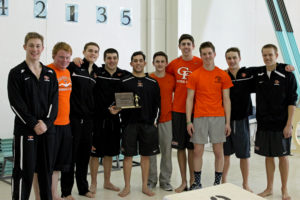 The Ramblers have done it again, for 12 straight years Prep has been victorious at the swimming District Championships. Despite everything that has happened recently to the Prep community, the swim team managed to put it all aside and focus on their races.
Prep was down 5 points to McDowell going into the first day, after Francis Kleocker's first place performance in the Diving Competition. However, their deficit did not last long. The first event of the meet was the medley relay and the Ramblers were able to finish first, break the pool record, and take the lead. Setting the tone for the meet in favor of Prep.
For the rest of the first day Prep won every event with the exception of the 200 yard freestyle. Rex Riley, a huge contributor to the record breaking medley relay, had a personal best in the 200 IM and beat the favorite Jonathan Ekas. Two other major contributors to Prep's success on day one were Zach Miller (50 freestyle) and Jim Morrison (100 yard butterfly), who were also members on the gold winning 200 yard freestyle. By the end of the day Prep had a commanding lead of over 50 points and showed no signs of slowing down.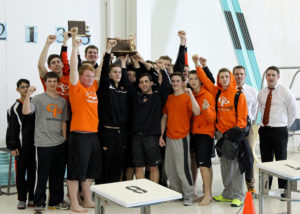 The following day, Prep picked up where they left off as Zach Miller and Jim Morrison took first and second place in the 100 yard freestyle. However, Zach will not be going to states for the event. After the meet he said that he was going to scratch himself from the event and let Jim swim it at states so he could focus on the three relays. Rex Riley had another big day breaking his own previous breast stroke record by 0.05 seconds. The last event of the meet was the 400 freestyle relay which Prep swimmers Tom Squeglia, Stephen Bretz, Rex Riley, and Zach Miller walked away with by more than four seconds.
From the medley relay on the theme of the meet was "Prep dominance." The Ramblers managed to take home golds in 8 of the 11 events, and will be sending 6 kids to Bucknell to compete at the state tournament. McDowell's Jonathan Ekas who won gold in the 100 backstroke and Dubois' Robert Fenstermscher won both the 200 and 500 yard freestyle will accompany them as the boys represent District Ten.