Students compete in Scholastic Scrimmage
The Scholastic Scrimmage is a game show where high school students are asked trivia questions that focus on a variety of topics, ranging from academic subjects to pop culture. The show originally aired in 1975 on PBS and continues to this day. Rounds consist of toss-up questions, which competitors must buzz in to answer. If they answer the toss-up incorrectly, there is a penalty on their score, but a correct answer will earn them a bonus question, which they may answer without a penalty for guessing incorrectly, and without interference from the other team.
A round is broken up into two segments of 10 minutes each, with two minutes of each half dedicated to the lightning round. Each team has a minute to answer ten questions related to a single topic, earning an additional ten points for each question answered correctly.
"The easiest questions were during the lightning round when the opposing team elected to give us the topic of inorganic compounds, and we proceeded to answer ten out of ten correctly," senior Aidan Levis said.
By the end of the round, whichever team has the most points moves on.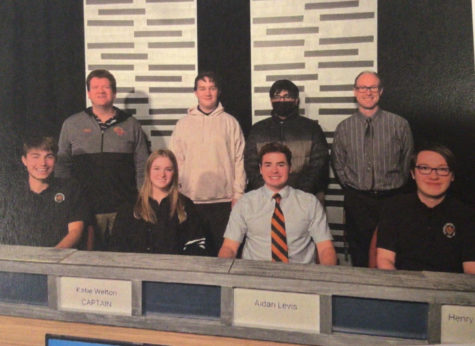 Cathedral Prep's team consisted of Katie Welton, Aidan Levis, Hayden Hutchinson, Henry Abercrombie, Zaid Sami, and Andrew Stubenhofer. Credit must also be given to Mr. McAndrew and Mr. Vicary, who coached the team.  After the tournament was finished, the all-star round began, where two members of each team were selected to participate. Henry Abercrombie and Hayden Hutchinson competed in the exciting all-star round. These students were honored to be recognized at quarter sessions.
The game show will air in January on WQLN. The hope is that more students will look forward to competing in the future.
"It's definitely worth your time, even if you sit on the sidelines," said freshman Andrew Stubenhofer.