Junior student attempts to bring Crocs back
In 2004, Crocs first hit stores and were a quick hit with children and adults alike. By 2007 they were hugely popular, due to their comfort and style. Another factor adding to their commercial success was the ability to customize one's crocs with Jibbitz, fun little charms that fit into the holes of one's crocs. They could show one's favorite sports team, cartoon character, or movie. Unfortunately for the company, Crocs went down in popularity after 2007, due to the stigma that they were "weird," or "uncool."


However, one brave soul is attempting to break this negative stereotype. Robert Quinn, or "Robby" for short, utilized SGA's Tropical Day to bring these shoes back in a big way. Robby strolled into Cathedral Prep this morning dressed in a Hawaiian shirt, cargo shorts, and yes… Crocs. The Crocs themselves are red, and possess the traditional holes in the top of the shoe that make them the ideal footwear for wading through shallow waters. The holes in the shoe may symbolize the hole left in Americans' hearts when the once beloved shoes disappeared from our lives.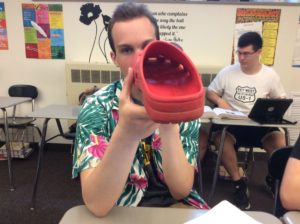 Robert woke up this morning to the realization that the shoes "most resembling the Tropical Islands" would be Crocs. He believe Crocs to be indestructible. His Crocs have been stepped on and had various items dropped on them. He even dropped a knife on his Crocs once. His foot received an injury, but the shoes remained unscathed. The most valuable thing about Crocs in his opinion is that they are all-terrain. He can wear them on a hike in the woods, a walk on the beach, and a stroll down the street. Robby is deeply saddened by the American public's distaste for Crocs. In his words, "These shoes are better than the new LeBrons and one fourth the price." It's safe to say that he owes quite a bit to the trendy footwear that make him feel "ready to take on the world."
It's a bold move to try to bring back the shoes that pretty much everyone hates. What's next for Robby Quinn? He's bringing back Heelys.