Pressure mounts as Senior Life Book due date approaches
Christmas Break is known around the world for most high school students as a time to relax, hang out with family and friends, and most importantly catch up on some sleep. Notice in the previous sentence the word "most" because here are Cathedral Prep the senior class is approaching the finale of the biggest assignment of their high school careers, the senior project. The Senior Life Book typically consist of about 125-175 pages when it is all said and done. Most people are probably wondering what could possibly make up all those pages, and to be honest there is not one clear cut answer.

Each project has sections about the student's view of God, view of others, view of nature and view of themselves to go along with the massive Coat of Arms essay that has a 3,000-word minimum. The beauty of the project is that everyone follows the same general outline, yet no two books are ever the same. The creator has the ability to add their own personal touch by adding in whatever pictures, achievements, or other personal memorabilia their little heart desires.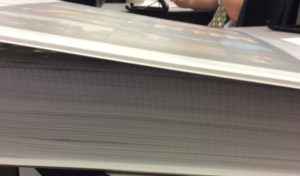 When asked about his experience with the senior project, Dajon Heidelberg replied, "I am currently putting on the final touches, but I really enjoyed the project because it made me remember all the great times I shared with my classmates. It made me realize going to Prep was one of the best decisions I have ever made."
Not everyone is close to finishing the project like Dajon. In fact, the majority of seniors have a busy weekend ahead of them. The project's due date is this coming Monday, Jan. 11, and that day is approaching faster than many seniors would like.
Chris Callari was kind enough to give his thought process about procrastinating on the senior project. "I hate assignments when you get a lot of time to complete them because that is way too easy," he said. "I am a big time player who thrives under pressure. That's why I haven't started yet. Who knows, maybe I will start this Sunday, January 10th, but that would be the earliest."
The project may seem like a hassle at times, but in the long run it plays a vital role in making Prep so unique. It is something that we as Prep students will have at our disposal for the rest of our lives, and it will be great aid in helping us remember our glory days. Good luck to all of the seniors who have yet to finish the project, and now that this article is complete I would say this is a great time for me to start mine.