Interview With a Pro: Tom Reisenweber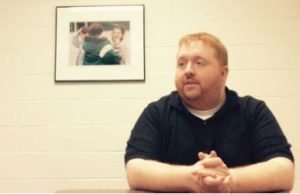 Erie Times-News sportswriter Tom Reisenweber has been quite the source of attention for many in the Erie community. Erie citizens love their sports. Without any major league professional sports teams housed in the city, however, local high school and college level teams as well as minor league teams receive all the more attention.
Erie is not the largest of cities, so it is fitting that there is no huge abundance of news coverage networks. Erie Times-News is one of Erie's most prominent locally run publications, and they entrust the job of relaying much of the sports related news to Reisenweber. This means that if you've heard anything about sports within Erie County, it is very likely that you have Reisenweber to thank.
This past week, I sat down with Reisenweber in an effort to get a taste of what it means to hold the position that he does. He was happy to elaborate on his childhood, his interests, what influenced him to become a writer, his
day-to-day obligations, and how being a public figure has impacted his personal life.
Reisenweber was born and raised in Erie. From as early as he could remember, he has been enthralled by sports, always staying involved by playing for his school team or keeping the record books. He originally held the ambitions of working for a professional team in Pittsburgh, Buffalo, Cleveland, or some other larger city. He never thought about writing, however, as many of his dreams were related to jobs such as team marketing or sales. In college, Reisenweber received a business degree from St. Bonaventure University.
Looking to start a career after graduation, he made the decision of calling a writer from Erie Times-News that he
had been close with through high school sports. He then became a stringer for the Erie Times-News, which eventually evolved into the writing career he currently holds.
He explained that his favorite part of the job is to meet and be involved with so many great coaches, athletes, and fans. Many of the athletes playing at the level that he covers aren't arrogant, and actually really look forward to speaking with him. He commented that he especially enjoys hearing the perspectives other people hold on sports, compared to the perspectives he holds. "When you grow up in Erie, you get idea about everyone who lives here, but people always seem to surprise you. By being in this position, and being able to have an objective perspective of so many people, it's refreshing to be introduced to the teams and communities I otherwise wouldn't be introduced to," he said.
Reisenweber obviously shows his face quite frequently in public. He made the point, though, that the times other people see him out and about often serve as breaks to his consistently busy work week. He said that the general trend within publications services is to expect more work from fewer people. In the average work week, he will update Erie Times-News' blog, work on websites that contain rosters, statistics, box scores, standings, and similar information, coordinate with colleagues to determine who will cover what event, and work on the Varsity magazine, among his other day-to-day duties.
Regarding the state of journalism itself, Reisenweber explained how factors such as modern day culture and technology have shaped the face of publications. Instant videos, audio recording, and so on make it so that journalists do not merely watch a game, speak to people, and then write about it. He explained that the thing that is most important is to get the news to the masses in the fastest possible way, and through a means that they will be receptive to, such as videos, pictures, and websites as opposed to physical publications, and social media.
As mentioned, Reisenweber has become a sort of public figure due to his involvement in the local sports scene. He noted that when he's out and about, he does occasionally get people coming up to him to talk about sports or something that he wrote. He was very humble, though, and says that reporting has never turned into a competition to him. He explained that he has surely experienced a few angry fans in his day, but says that most complaints people have are simply hasty or misinformed, and that the majority of people relax after he supports all of his stances with statistics and other information.
All in all, through this interview, Reisenweber made it clear that he really does love his job. For the time being, he plans to stay in Erie and continue reporting sports for the Erie Times-News. He did comment, though, that he is still rather young, and often times considers the possibility of writing for a Major League Baseball team. For the sake of the Erie community, though, I feel I speak for everyone by saying we would hate to see such an enthusiastic, involved, and skilled journalist leave anytime soon. Reisenweber left our conversation with the reassuring, encouraging words that if you find a job you enjoy, you'll never have to work a day in your life. These are the words that Reisenweber lives by.