Class of 2017 hosting trifecta fundraiser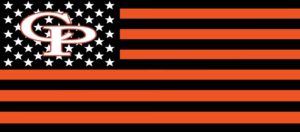 The Cathedral Prep school year is off to a great start with an increase of dedication in and out of the classroom. This is partially due to the great leadership of the senior class and specifically Senior Class President Will Lewis. Will has done a splendid job as leader of the Class of 2017 and has continued it this year. One of the important things going on now is the senior class fundraiser. The fundraiser features two Nike T-shirts, CP dress socks, and a CP American flag.

Will and the rest of the class leaders have held numerous fundraisers over the past few years to raise money for the class of 2017. The money that is collected immensely helps the students of the class. It can cover things all the way from free doughnuts on Thanksgiving to tuition assistance. The class officers are also trying to cover prom and graduation costs with the money raised by this fundraiser. Will is also looking to be the first class to establish a scholarship fund in the class's name, which would be a monumental accomplishment.
The idea from this year's fundraiser came from wanting to sell items that Prep students would want to have. They realized that T-shirts and dress socks would be popular due to the dress code at Prep and the numerous spirit days that Prep has. Also, a flag was chosen as the last item as it combines two things that all students have passion for; Prep and our country. The flag is similar to the American flag but with Prep colors and a CP logo.

Will shared his thoughts on the fundraiser and how important this is to the senior class. "I would like to say to people that we would really appreciate participation in this fundraiser as it is a pretty big deal for our class and the class's success," he said. "We would just love for Prep flags to be flown around Erie, the country, and the world. We are trying to finish our time here at Prep strong, and this fundraiser hopefully will be an extension of that strength."

Students, parents, alumni, or anyone who wants to purchase any of these items is encouraged to order through the order form that was sent out recently. If not, they can email the Class of 2017 president at [email protected]. The orders will continue until next Monday, Nov. 21. Senior Trey Deitrick plans on purchasing items from the fundraiser. "I am especially excited about the flag since I will be able to take it with me to college and show my support for Prep all the time."
Follow in Trey's footsteps and buy items from the trifecta fundraiser to support the Cathedral Prep Class of 2017.