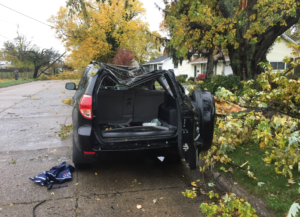 This past Sunday, Erie citizens residing anywhere from 26th and Peninsula to 36th and Washington were struck with a lethal storm. The storm was responsible for the deaths of two Erie men along with much destruction. This was the first time in recent memory that a tornado formed within city limits and swept through neighborhoods, as well as major roads. The cleanup process quickly began following the damage, but restoring power to some areas took time.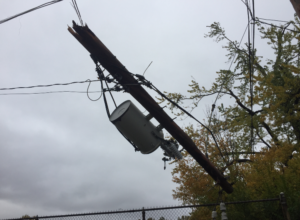 It all began on the evening of Nov. 5 when a sudden downpour of rain occurred at approximately 5:30 p.m. As the rainfall increased, lightning began striking dangerously close to homes resulting in power outages lasting longer than 24 hours. Trees spilled onto not only roads but vehicles and houses as well. Many streets were completely taped off by city officials, law enforcement, service workers, tree removal companies, and private contractors in an attempt to restrict as much attention from the most serious cases as possible and to neutralize the damage. Sometime prior to 7:30 p.m., a tornado struck many residential areas.

Erie native Paul Snyder spoke of his experience saying, "All of a sudden, rain started coming down very hard. Then, there was a brief calm before what sounded like a freight train coming through my backyard. The trees in my backyard were almost horizontal to the west and then to the east. You couldn't see anything, and there were papers flying all around inside. During the aftermath, we opened the front door and our tree was up against our house, and as we looked down the street, it resembled a war zone. I never saw wind with that much force in my life."

Many businesses and non-residential buildings faced similar conditions to Snyder's that night. The Belle Valley Fire Department was severely flooded. The Milcreek Township School District administration's office roof was severely damaged. The Hong Kong restaurant's windows were shattered by wind gusts just to name a few. Large trees were completely uprooted from the ground. A power line even fell onto a car and set it on fire on the 3400 block of Allegheny Road. To say the least, this storm has sparked a sense of appreciation among those who endured the threatening nature of Nov. 5, an appreciation for what we all take for granted (utilities, city service employees, and their own neighbors). It was amazing to see people in the streets helping each other remove debris, cautioning others of downed power lines, and offering refuge if one's power was out.

Not all can be quite as thankful though. Two men tragically were killed in the basement of their home. Extreme flooding caused the wall to cave in and eventually lead to the death of 2 innnocent lives. The families need our help. It is time to see what Erie is made of and how much we care for our neighbors. As if the death to these men didn't carry enough horror, the home was later robbed and stripped of their firearms and electronics. These were men with families who need a helping hand through their struggles. If interested in contributing to the funeral expenses to further assist the families, please visit http://gofundme.com/gary-hoffman-funeral-costs for more information.