Rambler Alumni Compete in Ironman Triathlons
Jump in the water and swim 2.4 miles. Run out of the water, hop on your bike, and ride it for 112 miles. Finally, dismount from your bike, put a pair of running shoes on, and shuffle off toward your marathon. Finish all of that in 17 hours of less, and you're officially an Ironman. Even if this sounds difficult to you, which I'm sure it does, you're still probably underestimating it. Completing an Ironman triathlon is just as much of a mental and emotional challenge as it is a physical challenge, making it a tremendous undertaking that requires a great deal of dedication.
A triathlon is a multi-sport event comprised of swimming, biking, and running, consecutively and in that order. A competitor's time is the time it takes for him or her to cross the finish line after the race is started, so the transitions from swimming to biking and biking to running are included in a finisher's time.
There are many different distances that one can find in triathlons. An Ironman distance triathlon is the farthest, and the shortest distance triathlon is known as a sprint distance triathlon (1k swim, 20k bike, 5k run). There are also Olympic distance triathlons and half Ironman distance triathlons, the latter being exactly half the distance of a full Ironman distance race, and the first being somewhere in between the sprint and half iron distance races.
Triathlon is actually a very popular sport. Across the country, there are more than 500,000 USAT (the official governing body of the sport in America) members. The USAT sanctions over 3,500 races every year, too.
Locally, there are many people who actively participate in triathlons, in fact, you may know some of them! There is a local club, the Erie Triathlon Club, that anyone can join, as well as numerous local races, including the Edinboro and Presque Isle triathlons.
There's a preconceived notion, held mainly because of a lack of understanding and poor coverage of triathlons in the media, that the only Ironman distance triathlon is raced in Hawaii. While the world championship is raced in Kona, Hawaii every year, there are countless other Ironman distance triathlons raced all over the world throughout the whole year, which again speaks to the popularity of the sport.
There are, surprisingly, many local athletes who take on the challenge of completing an Ironman distance triathlon each year. In fact, there are a few Cathedral Prep graduates who have completed Ironman distance races. Some local Prep graduates who have earned the right to brag for the rest of their lives are Judge John Trucilla, Mike Collins, and Ron "Ripper" Rzepecki. I talked to a few of these men about their experiences, Mike Collins and Ripper, and greatly enjoyed listening to their stories.


Mr. Collins graduated from Cathedral Prep in 1988 and attended St. Bonaventure. At Prep, Mr. Collins played golf and wrestled. After college, he found himself interested in cross country skiing, eventually working up to long, 50 kilometer races. This, he says, is what introduced him to the world of endurance sports. Collins started swimming, biking, and running, racing separately in each of them (locally in the Highmark QUAD Games), and found he greatly enjoyed partaking in the activities for longer distances at a time. Combining the three for a triathlon came naturally, and due to his ability to keep going for such long times and distances, the Ironman was an obvious next step.
For Collins, his success in the sport, he says, is due to his discipline. From discipline in the work place to discipline while training for an Ironman, Mr. Collins is an incredibly self-disciplined man. And this word, "discipline," may have been the word he used most in our conversation. Interestingly enough, Mr. Collins attributes much of the discipline he has to his days at Cathedral Prep.
Collins has a strict training plan, and he adheres to it without fault. The whole process, for him, is very scientific. Numbers can be as big or as small a part of one's training as one wishes. For Collins, they are the end all be all. On the bike, a rider's output is most efficiently measured in watts (how much power one produces through pedaling). Collins told me his training rides are often him dialing in on a certain wattage, and staying at that wattage for three hours at a time. There is no doubt that this is the best way to ensure one is as ready as possible for his or her race, as well as to make sure one can successfully pace themselves through an all day, 140.6 mile race.


After many years of competing in triathlons of shorter distances, the QUAD games, local bike races and runs, and finally a half ironman distance triathlon, Mike Collins completed his first Ironman in August of 2008. Collins raced in Louisville with Judge Trucilla on a day with a 115 degree heat index. Why a race is in Louisville in August is beyond Collins, as well as myself, but the Ironman Corporation continues to hold this race in Louisville in August each year.
Collins planned on competing in Ironman Lake Placid in 2010, even going up the year before to volunteer to ensure a spot in the race, but was held back by an injury to his hamstring. Extremely persistent, Collins quickly bounced back, and completed another Ironman this past September, Ironman Mont Tremblant.
Ironman Mount Tremblant, held in Montreal, is the North American championship race, and the experience, says Collins, was fantastic. For him, this was the best run race he had ever been a part of. A unique experience came for him when he went to pick up his race bag, and noticed the tent in which the professional's supply bags were. Every bag he saw, says Collins, was from a different country.
Racing internationally is, it seems, an enlightening experience. For many, the love competitors share for whatever it is they're competing in transcends cultural and international boundaries. By racing together, participants find a common bond, despite their backgrounds. In eighth grade, I researched the Ironman triathlon for an oral history project. In doing so, I interviewed Dr. Jack Utley, a local orthodontist that completed in the Hawaii Ironman in the late 1980s. Dr. Utley told me a unique experience came for him during the run, in which he ran along with several Japanese racers. Just half a century ago, Utley said, these people attacked our country via the very state they were racing in, but here they were, using each other as motivation and support to get through their race.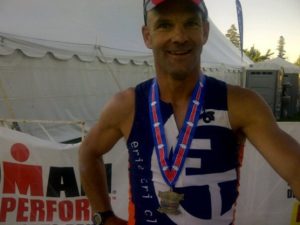 Ripper Rzepecki's story is a little different from Mike Collin's. Ripper graduated from Prep in 1989. While he was at Prep, Ripper played football and did the pole vault. Ripper says his favorite coach on the football team was Mr. Czytuck, who he also had for trigonometry. Rzepecki also had Mr. Del Rio in class, and told me that, just as he does today, Del Rio always called out students for not shaving. Today, Rzepecki is a plumber for Pilewski plumbing.
Ripper competing in an Ironman was a result of him redirecting his life. In his adulthood, he says he began smoking and drinking. Wanting to lead a healthier life, he took up running. Ripper started biking, and then quickly tried out the triathlon. His first triathlon, the Edinboro triathlon, was in 2009, and, he says, was a very humbling experience. Quickly though, out of curiosity as to why others were doing it, Ripper decided to try an Ironman.
Ripper's one and only Ironman was Ironman Lake Placid, in 2010. Coincidentally, Ripper went up to Lake Placid with Collins the year before to volunteer as well. These events are so popular and fill up so quickly, that often times the only way to guarantee a spot in the field is to be on location when registration opens up, as volunteers get first dibs. Ripper raced alongside 3,500 other competitors.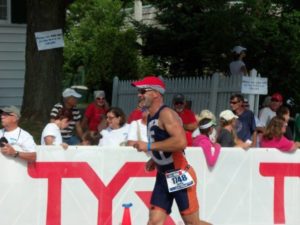 The experience, for Ripper, was surreal. He talked to me about how, once one commits to an Ironman, it becomes a huge part of their lives on a day to day basis. The training that is necessary is characterized by long and grueling hours, and often stays on one's mind all day. Will I be ready? Will I have enough time to get my training in today? How hard should I push it?
Ripper finished his race in 12 hours and twenty minutes, just before 7:30 PM. Competitors often have goal times. While Ripper didn't have a goal time, per say, he hoped to finish before the sun set. Coming in at 7:30, Ripper finished amidst an early summer sunset sky. The feeling he says, was unlike any other he'd ever experienced. Knowing all the training he had put in had paid off, that this journey he had committed to over a year prior had come to a successful close, all amidst the cheers of thousands of spectators, made him feel as if he was on top of the world, a feeling of euphoria hardly any of us could relate to.
As mentioned earlier, the Ironman World Championships are held in Kona, Hawaii. While most of those who compete in this marquee event get in through qualifying (finishing in the top of their age group in a qualifying race such as Ironman Lake Placid or Louisville), this is very difficult to do. Most people's only hope of getting into Ironman Kona is through the lottery system. Contrary to what I thought, though, neither Collins nor Rzepecki is set on racing in Kona.
Both, of course, wouldn't hesitate to compete in this race if given the chance, but, for each of them, there are other things they would like to do. For Collins, it seems, part of what attracts him to the sport is the opportunity to travel. He would like to compete in Ironman France someday, a race in which the swim is through the Mediterranean, the bike through the Alps, and the run through the iconic city streets of Nice. Collins is racing Ironman British Colombia next June, and says he would love to, some day, race Ironman Australia and Ironman New Zealand. For Rzepecki, while triathlons certainly aren't out of the question, and he definitely is open to another Ironman, he simply would rather do other things, for example, the Leadville 100 mountain bike race, a distinguished 100 mile race through the mountains of Colorado.
Talking to Mike Collins and Ron Rzepecki was both insightful and inspiring. Listening to their stories was fascinating, and, for me, really cool. What I found especially neat was how fondly they each spoke of Cathedral Prep. While the school may have changed a bit in the time since they've graduated – Ripper told me we have it easy with how long our lunches are compared to his 18 minute lunches – the legacy lasts. Both men spoke of how, to this day, they are still proud Ramblers and stay in touch with many of their classmates and teachers. Mike Collins told me he still goes out to eat once a month with many of his high school friends and insisted he and I were brothers, despite having graduated before I was born, which I thought was really neat.
Neither of these men, however, gave real concrete answers as to why they love the Ironman and why one should do an Ironman. Sure, both are extremely passionate about it and it is clear they are adamant supporters of the event, but, when asked why someone else should do one, there is no clear answer they can give. To some, an Ironman will never be an option, as it is a challenge too insane to even consider. For others, like Collins and Rzepecki, its that exact challenge that draws them to it. I believe Edmund Hillary sums up this unique affinity. When asked why he wanted to summit Mt. Everest, Hillary simply responded with, "Because it is there."