Basketball, electric guitars, and avoidance: Students share how they handle stress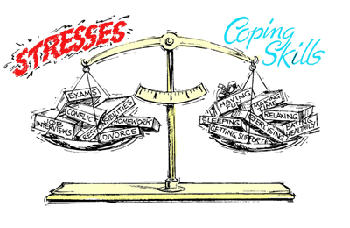 Students of Cathedral Prep tell of the different ways they personally deal with stress effectively. During the clearly stressful situation of the COVID-19 pandemic, identifying and sharing ways of coping with anxious feelings are increasingly important.
AJ Nawrocki, a senior at Prep, explained that the biggest pressure he feels comes from living up to others' expectations, especially from family members. To relieve the stress caused by the pressure to do well in everything, he turns to music. When it comes to what AJ likes to play, he counts on "Wish You Were Here" and "Shine on You Crazy" by Pink Floyd.
"I play the guitar whenever I'm feeling overwhelmed with the pressure to do well at too many different things," said AJ. "Guitar makes me forget the problems and stress I have and shifts my focus to something else."
Michael Lucarotti, a senior, prefers to lace up his basketball shoes and get some practice in at the gym to clear his mind. The athlete tells how participating in his sport has always been an escape for him and takes his attention away from any real-world problems he may be facing at the time.
"I just shoot for basically hours at a time; I'll go for sometimes two hours, one hour, and maybe four or five hours," Mike said. "I always feel that it brings me back to a calm space where I can deal with my problems in a different way."
Aside from the time he chooses to spend on the court, Mike also enjoys taking drives alone while listening to music in order to defuse any stressful thoughts he may have.
"I really get to collect my thoughts, relax, take some deep breaths, think about things, and gather myself," Mike said. "Any type of car trip where I may just want to drive to get away from my house or school work is what I do if a gym isn't available."
Approaching stress in an alternative way, Nathan Mitchell, a senior at Prep, would rather dismiss anxious thoughts entirely. Worries of being judged by others in social situations, which he stresses about most, are quickly ignored and debunked by his mind.
"Avoidance. I either avoid certain people that I don't feel like talking to or certain situations if I have to," Nathan said. "When I can't avoid, I get stressed for like 10 minutes and then say 'Forget it. These people don't really matter anyways,' and I feel fine."
Similar to one of Michael's chosen coping mechanisms, Nathan also turns to relaxing car rides and music whenever avoidance is not an option.
"Driving around gets my head out of the gutter. I can listen to music, and don't have to focus on anything," said Nathan.
"Stress builds up in you and tears you down if you keep it in," said Michael. "Letting that stress leave, even if it's just for a few hours, is great for you. Letting it out keeps it from building up."